Even before your baby can talk, you can help develop language skills by talking, reading and singing together every day. Reading to your baby is a great way to promote early literacy. Just having fun and letting baby play with the book can go a long way. Check out Carnegie Library's Best Books for Babies and other helpful tips about talking to your baby as well as activities to get you started.
Why Talking Works
Children learn to talk, read, and write through social experiences. The more words and conversation your baby hears from you, family members, and caregivers, the better their communication will be when they start using words. What you're talking about matters less than the fact that you're simply speaking: Introduce a subject and encourage everyone to chime in, from your teen to your toddler.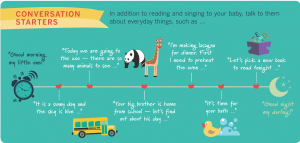 In addition to reading and singing to your baby, talk to them about everyday things.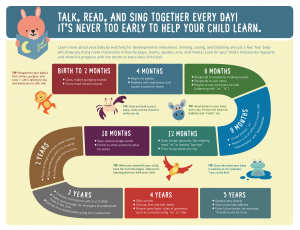 Learn more about your baby by watching for language based developmental milestones and be sure to share progress at each of their well child visits.
General Resources
Having Fun with Words Brochure