Routine checkups, including immunizations and dental exams, are important to keep your child healthy and prevent problems before they occur. Allegheny County has a lot of resources to help you find the health care your baby needs.
Immunizations
Immunizations are available from your pediatrician or at no charge at the Health Department's Immunization Clinic, located in downtown Pittsburgh. The clinic also offers childhood lead level testing.
Dental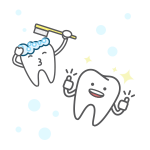 Taking care of your baby's teeth begins before they even start to teeth. Follow these dental health guidelines to makes sure that your child's teeth grow in and stay strong.
Pediatric Dental Program
If you can't afford dental care, the Pediatric Dental Program operates three clinics to provide free dental services for children through age 20 whose families meet certain income guidelines.  Each clinic offers examinations, cleanings, fluoride treatments, X-Rays, dental sealants, fillings and extractions.
Three Locations
Central City Mt. Oliver McKeesport
Finding a Doctor/Insurance
If you need health insurance or have any other health care questions, 2-1-1 will connect you to people who can help. You can chat with a Family Specialist from the lower right of your screen, dial 2-1-1, or text your zip code to 898-211.